pop up description layer


Double Ridge
Waveguide
Couplers
WRD-650 6.50 TO 18.0
WRD-750 7.50 TO 18.0
GHz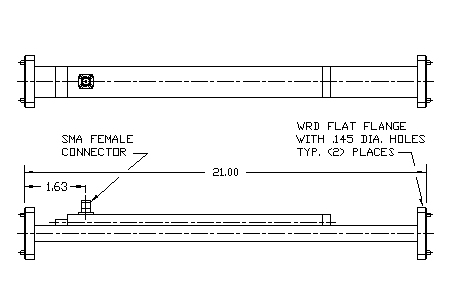 Double Ridge Waveguide Couplers
These broadwall couplers offer high directivity and optimize broadband performance. Useful applications are in test labs and system power monitoring. Aluminum waveguide is standard and alternate flanges are available. See flange section. See table for complete specifications. Standard coupling values of 10, 20, 30 and 40 dB are available. Finish is instrument gray enamel.
WG
Size
Frequency
Range, GHz
Average
Coupling
Coupling
Sensitivity
Directivity
Min.
Main Line
VSWR
Model
No.
WRD-750
7.50 to 18.0
+/- 1.0 dB
+/- 2.0 dB
35 dB
1.10
WRD750-74
WRD-650
6.50 to 18.0
+/- 1.0 dB
+/- 2.0 dB
35 dB
1.10
WRD650-74
Important ordering information: Add dB coupling value to model number, i.e.: To order WRD-750 size 30 dB coupler, specify WRD750-74-30.
Please call if you need any further assistance or information.
| | | | | | |
| --- | --- | --- | --- | --- | --- |
| 65b | | P.O. BOX 718, West Caldwell, NJ (973) 808-9113 Fax (973) 808-1524 | P | N | T |